Eyefish Media is a one-man media operation run by Danish journalist Kent Dahl out of Tokyo.
He specializes in Asian feature articles and takes photos to illustrate his articles.
Networking with other media professionals in the region he is also making documentary films.
Based in Tokyo since 1986 he covers the rest of Asia as well visiting several countries in the region on a regular basis.
Graduating from the Danish School of Journalism he settled as a freelance journalist in Japan. Previously he lived two years in Paris and two years in USA (New York and Chicago).
Languages written: Danish and English
Languages spoken: Danish, English, Japanese, French.
Languages understood also: Norwegian and Swedish.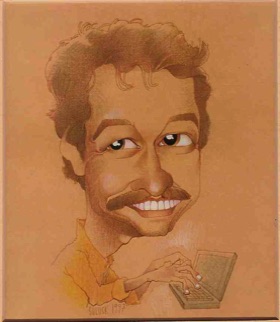 Kent W. Dahl cartooned by famous political and cultural Thai caricaturist:
Suluk Boonpan©.