ARTICLES:
Write for daily as well as periodical newspapers, magazines, company publications, websites and other media.
Specializes in feature articles, but can do news stories.
PHOTOS:
Take still photos for any kind of media.
FILMS:
Networking with other media professionals in the region, EyefishMedia.com is making documentary films.
PRESS RELEASES
HOME-PAGE CONTENT:
Text, photos or video for home-pages.
EVENTS:
Photo exhibitions and special film screenings with presentation and Q & A.
Special film screenings.
VOICE OVER: For films or video.
Click for more information.
TRANSLATION:
Click for more information:
AREA COVERED: Mostly North, South and East Asia.
LANGUAGES SPOKEN: English, Japanese, French, and Danish.
LANGUAGES WRITTEN: English and Danish.
LANGUAGES UNDERSTOOD: Also Swedish and Norwegian.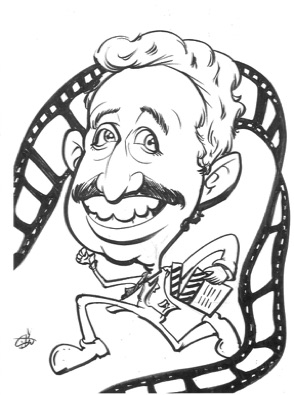 Kent W. Dahl cartooned by Chinese caricaturist Zeng Lian Han©.